Laundry pod and laundry sheet combination package
Products Visitors:834
Products description:
Laundry pod and laundry sheet combination package
This type is using the combination package,the laundry pods are 6pcs,and the sheets are 20pcs.
| | |
| --- | --- |
| Brand | Mr.Strong or OEM |
| Size | 5g,10g,15g,20g,25g |
| Color | blue,green,pink,purple,red,yellow+purple,bule,white |
| Package | 6pcs+20pcs |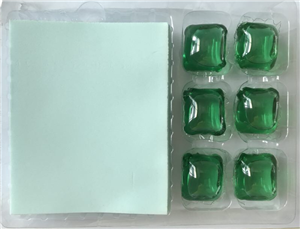 1.High quality water-soluble film imported from japan
2.Super high concentration with strong cleaning power
3.Dosing correctly and no wrap to remove
4.Cold water action
5.Hand wash & Machine wash, no skin contact with
6.Environmental,eco-friend and convenience
1.Suitable for cotton, linen, polyester and mixture of those fabrics.
2.Don't use for silk or wool cloths.
3.Seperate coloured clothes from white and wash them in different basins.
4.Keep the product in dry place and out of reach of children.
5.In case of eye contact, flush with plenty of water.
6.If swallowed, drink plenty of clean wter or milk and seek medical advice.

1. Professional Products Knowledge
2. Experienced Market Knowledge
3. Advance R&D Ability
4. On Spot Supervision
5. Best Transportation Recommendation
6. Professional Documentaries Operation
Product Line

New Products
Relative Keywords
You may also be interested in: